Conversations: Mortgage Lenders and Home Loans
First-time buyers have one bomb resource on their side: lending options. Sure, you can walk into your local bank, apply for one loan product and call it a day. But unearthing the best deal requires a little more research and inquiry. Here's how to find the best mortgage lender and loan for you.
Mortgage Lenders: Your Options
Your first objective? Educate yourself on the mortgage process and decide which lender type is right for you. And know this: No one lender has a magic source of funds.
Here's how the world of mortgages works: Fannie Mae and Freddie Mac (government-sponsored enterprises) buy almost all of the loans underwritten and funded by depository institutions and mortgage companies (where you are going to get your loan, see below). Most of the rest are purchased by Wall Street hedge funds, and a very small number are held "in portfolio." So, in every transaction there are at a minimum two parties: the depository institution or mortgage company that underwrites (handles all the paperwork to get you approved) and funds the loan, and Fannie, Freddie or a Wall Street hedge fund that buys the loan. Brokers get involved as a third party when depositories and mortgage companies outsource the loan processing function.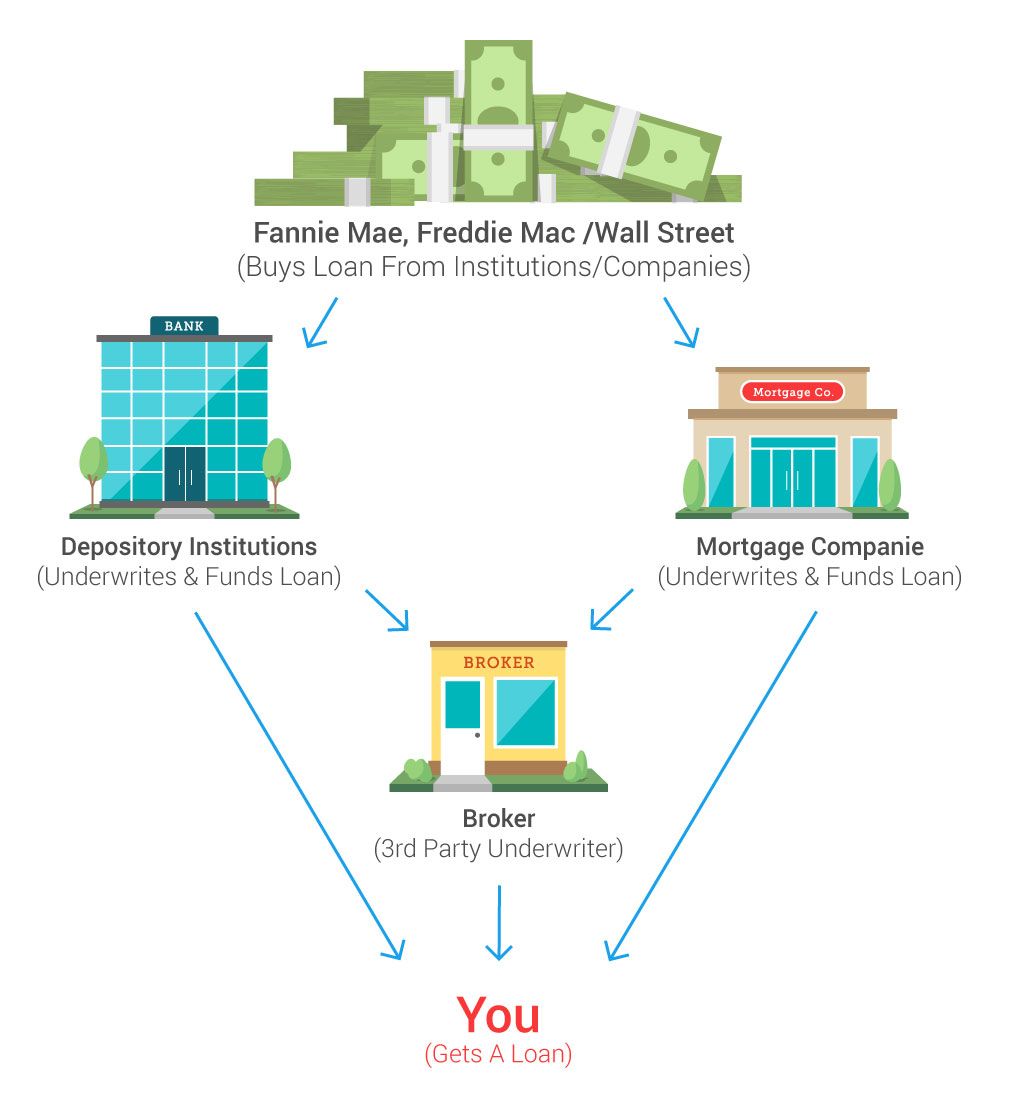 To complicate things further (and probably more information than you need), sometimes the broker brokers to the mortgage company, the mortgage company pre-sells a small pool to a larger mortgage company, a servicer or a depository (i.e. Wells Fargo) and that company sells to Fannie or Freddie but retains the servicing.
Depository institutions include banks, savings and loans and credit unions. They underwrite as well as set pricing in-house, which means a faster process and more competitive rates. But not always. Depository institutions offer a limited number of programs, so you should be prepared to jump start the search for a lender and loan if your application is denied.
Mortgage companies are mortgage lenders who underwrite loans in-house and fund loans from a line of credit before selling them off to a loan buyer. The benefits? You can expect a larger (although not unlimited) portfolio of loan products and more options for pricing, which could save you a little money. But again, be prepared to start from scratch if your application gets the thumbs down.
Mortgage brokers outsource underwriting to banks or mortgage lenders, which may add a day or two to the process. On the flipside, brokers have access to dozens of lenders and hundreds of programs, which means they can offer competitive pricing and find programs to fit almost every borrower. And contrary to common perception, brokers do not add cost to a mortgage. They are paid like travel agents. Banks and mortgage lenders outsource the origination function to brokers, and pay them what they would pay their own in-house loan officers.

How to Comparison Shop
Yes, you could shop by best mortgage interest rate, but shopping by rate/price combo may be your best bet. Here's why:
Mortgage interest rates are generally quoted in 1/8 percent increments, and so there are a finite number offered. The price for that interest rate, however, is quoted down to the thousandths of a percent, and can be anything along that range. It is much easier to pick a target rate and then shop for the price. Once you've selected a lender, you can still ask for other interest rate options. Let's walk through this.
Interview multiple loan officers

(from banks, mortgage lenders, mortgage brokers or all three). Ask each officer how many loans he or she personally handles each month. Too many and you may not get personal attention, too few and you may be working with a rookie. And If you have any particular challenges — credit, self-employment or citizenship status, for instance — ask each officer how much experience he or she has working with clients in similar situations.
Choose

three loan officers

you like.
Do a little research

online to pinpoint a realistic interest rate.
Ask loan officers

to give you price quotes

at that rate on the same day at the same time. This is important, because rates change daily, and often many times in a day. Specify a lock period (30 or 45 days.)
Ask each officer to send you a fee worksheet

with all of his or her related fees. Only the lender fees matter, because the lender typically has little control over title, escrow, recording and other fees.
Each lender will come back with a quote at that interest rate with a cost or credit for the interest rate you like. The cost will be expressed as a percentage of the loan amount (0.25 or 1/4 point) or in dollars.
What You Do with All This Information
You have three quotes for the same loan amount and interest rate (and thus the same monthly payment). Now you want to zero in on the total upfront cost for each lender and compare fees: appraisal, underwriting, processing and administration. Because lenders get their money from the same sources, the quotes should be fairly close. If one is seriously off, something is probably wrong. Do the exercise again.
And keep in mind: The cheapest quote may not always be the best choice. If one loan officer came highly recommended by a trusted source, or dazzles you with his or her clear, meaningful advice tailored to your circumstances and concerns, you will have a much better experience with that lender. A little extra cost is probably worth it.
Finally, the quotes don't actually matter until you lock your rate. Unless you are ready to lock at the time of the quotes, rates will change before you lock in your interest rate and price. You can remind your loan officer that you intend to compare rates again when you go to lock, but the point of this exercise is to choose a competent, ethical, professional (i.e. hella good) mortgage advisor who offers a competitive rate and price.