Moment of Truth: Making an Offer
Making a purchase offer is two parts logic, one part emotion and one part pure guts. How much should you offer? Is your opening bid too high or low? Are there competing offers? Will the house appraise? Here are some super-important factors to consider when writing a purchase offer on a home.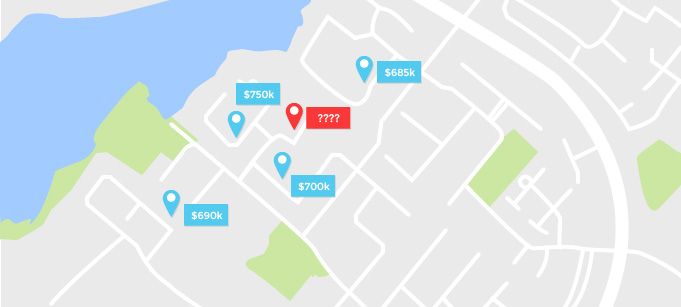 Forget the List Price. What's the House Worth?
With respect to property values, you only know one thing for certain: the sales price of similar homes in the area. The list price (what the seller thinks the property is worth) is meaningless. Ignore it completely. (Yes, we give you permission!) A seller can list a house for any amount he or she chooses. If the house is worth $200,000, a seller can list it for $300,000 or for $50. The value of the house — today — is $200,000. The only accurate, mathematical way to ascertain the value of a home is to ask a real estate agent to perform an in-depth analysis and generate a Comparative Market Analysis (CMA).
Comparative Market Analysis
The CMA is prepared by a real estate agent and determines the estimated value of a home by comparing it with other recently sold homes of similar condition, size, features, age and location. Active, pending and expired listings are included in the report to measure activity and demand in the neighborhood, but only the "solds" are considered in the final pricing analysis.
Since no two homes are exactly alike, price adjustments are made to the comparable properties (comps) to neutralize features (like a pool, for instance) that are inferior or superior to the subject property. When quality comps are used, a fairly accurate price range can be established. Your opening offer should fall somewhere in that price range, give or take depending on the following factors:
Buyer's Motives
Once you establish what the home is worth, you can determine what the home is worth to you. If your needs are insanely specific and you've been looking for months to find the right home, you may decide to pay a higher price rather than risk losing the house. Otherwise, decide what the home is worth to you based on your work commute, your lifestyle, the quality of schools, potential resale value, property condition, property maintenance costs and market conditions. If inventory is low, a better option might be hard to come by.
Seller's Market vs. Buyer's Market
A seller's market means there are more buyers than sellers. (Read: It's bananas, guys. Homes sell quickly and prices go up). To buy a home, you'll have to write a killer offer with great terms. A buyer's market is the opposite: There are more sellers than buyers, homes sit on the market a long time and prices drop. If you're buying a home, you can expect epic discounts and favorable terms. A quick look at the CMA and neighborhood stats can tell you how quickly homes are selling in the area.
Days On Market (DOM)
Your agent can tell you the numbers of days the property has been on the market and what's typical for the neighborhood. Newly listed homes are typically less negotiable than homes that have been on the market a while.
Competing Homes
If the home you like is the only one of its kind in the neighborhood, the seller has little competition and you may have to pay more. But if you're buying in a master-planned community where there are lots of similar homes for sale, the seller faces competition and you may be able to offer less.
Seller's Motives
An owner might be selling due to financial problems, a divorce or relocation. OR the owner's trying to unload a hot mess. Don't buy someone else's problems! Sometimes homes are cheap for a reason.
Writing the Offer
Although the sales price gets most of the attention, the following terms you present can make or break a deal.
Financing type. FHA and

VA loans

require minimum property standards. Not every home will qualify for these loans.
Earnest money. Let's call this a security deposit; it shows the seller how serious you are. The more money you are willing to throw down, the more appealing your offer will be to the seller.
Inspection period. Your inspection period should be long enough to do your due diligence, but not longer. The seller prefers a short inspection period so the home isn't taken off the market too long.
Repairs. Requesting a long list of repairs at the offer stage is a bad move. Wait until after inspections to negotiate repairs.
Down payment. From the seller's perspective, a buyer with a big stack of cash is more highly qualified and consequently more likely to close.
Closing costs and pre-paids. A $300,000 sales price with a $5,000 seller contribution is the same as an offer of $295,000. Seller contributions reduce the seller's net proceeds.
Title policies. Although it's customary for the seller to pay for the owner's policy and for the buyer to pay for the lender's policy, the terms are negotiable.
Closing and possession. If the home you wish to purchase is occupied, decisions must be made about when closing will happen and when the seller must skedaddle.
Contingencies.

A contingency is an "out" clause. If, for example, the house doesn't appraise, an appraisal contingency allows you to cancel the contract and get your earnest money back.
Offers need to be in writing and include both a cover letter written by your agent and your pre-approval letter. You must prove that you are a highly qualified buyer who is ready, willing and able to close. Basically, boss up.
Keep the transaction professional and pleasant, and remember that the most successful real estate transactions are ones where the needs of both parties are considered.