The Perfect Home for You Right Now
You're ready to buy. Props to you! Taking time now to narrow your focus (yes, we're advising you to be completely selfish right now) will pay off big-time in the end. We're talking about how to choose the right home.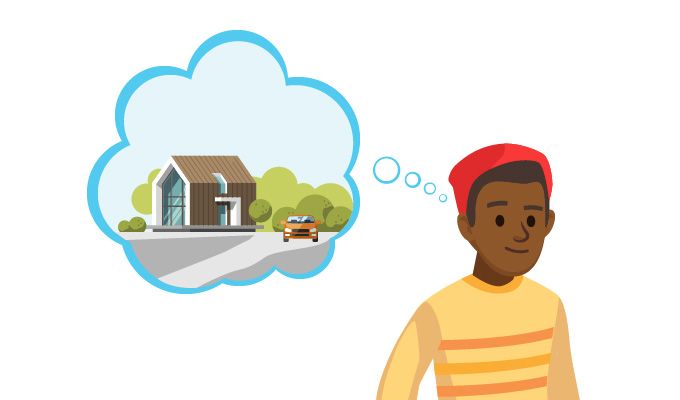 Location, Location, Location
That old saying is still true. Where you choose to live will have a serious impact on the quality of your life.
Start with your environment. Is the right home for you in the city, burbs or country? Your career may dictate this, depending on your work and your tolerance for a commute. For some, a two-hour work commute would be the absolute worst. Others may consider that commute time the best part of the day. Some questions to ask: Is there public transportation available, like a train with Wi-Fi? Can you carpool?
Proximity to extras also matters. Working parents may want to be close to schools and shopping. Singles may consider easy access to restaurants, nightlife and recreation a deal maker.
Finally, the vibe of the street you live on matters, too. Some homeowners prefer developments; others couldn't live without a quaint town and charming old homes. What's your jam?
All the Bells and Whistles
The obvious starting place for defining your first home is whether you want a home, townhome or condo. Affordability may play a part, and each choice has its pros and cons. If you love to travel, a condominium may suit you best. If your outdoorsy, a small cottage in the country may be ideal. Being open to a couple of the options broadens your choices a lot.
How you use your home will determine what kind of amenities you need or want. Have children? Plenty of bedrooms and bathrooms is not even up for debate. A family room is important, too, since that's where you'll spend the most time with the little guys. And summer plus rowdy stir-crazy kids equals a large yard and maybe even a pool.
Do you plan to entertain a lot? Then a big kitchen, opening living/dining area and formal outdoor space may work best for you.
If you can't stand yapping dogs and nosy neighbors, then high fences are for you. If you like connection with folks next door, a style that pushes the living area to the front of the home, facing the street is best. Older homes with porches tend to connect you with your neighbors too.
Evaluating Price and Costs
Two components — upfront cost and ongoing cost — make up the total cost of your first home. A lender can review your situation and throw out a home price for which you qualify, but only you know what home price you can afford.
Determine your own boundaries by asking yourself the following questions:
How much of an emergency fund do I need?
How much total monthly debt am I comfortable with?
Will I have enough left over to save for retirement, college or emergencies?
When you buy your first home, you are bound to stretch a little, and it may seem impossible at first. But homeowners tend to make it work, and after a few years build up some nice equity. You will too.
Prioritize Your Needs and Wants
You might think, "I can't afford everything I want," and you're probably right. So, how do you sort out what's important? Easy. Get a pad of sticky notes and a blank wall. Using the above suggestions, write out the things you want using one sticky note for each amenity or location wish. Add in anything else that pops to mind. Remember, you are dreaming about the right home for you.
Stick your notes on the wall in any order. Then, one by one, move pieces up or down based on how important they are to you. You may go back and forth a bit, but soon the order will make sense. If you can get the top three location desires and the top three amenity desires within a price range that is comfortable, you will find a home you love and that will make you happy. Happy shopping!