What does it mean for my home to in Escrow?
Escrow. The word takes on different meanings as you move your way through the home buying process. The whole thing can get straight-up confusing, so we're here to pin down the details.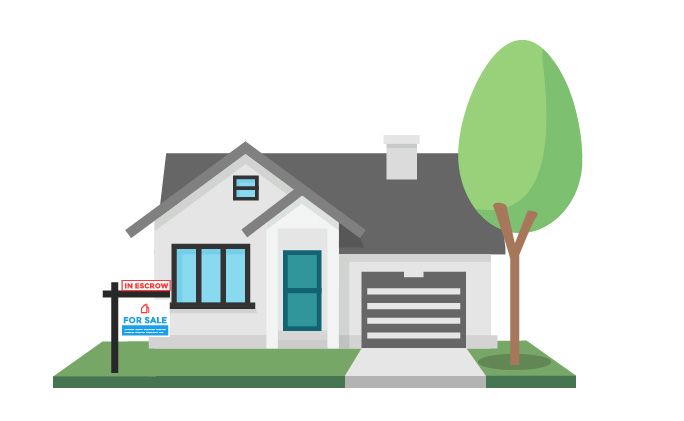 The Escrow Process
After you and the seller shake hands, you enter a period when the home is under contract or "in escrow." During this phase, which can last 30 or more days, a binding contract or agreement between buyer and seller, earnest money (the cash you put down to say, "I'm serious") and other documents, along with specific instructions on what to do with all documents, is passed on to someone called an "escrow holder" or "escrow agent." The agent holds on to all materials and sees that all steps are carried out as outlined in the instructions. The agent makes sure that each party signs where he or she is supposed to, title search is completed and all other i's are dotted and t's are crossed. At the "closing of escrow," the agent delivers the appropriate documents, funds, insurance coverage, etc. to the appropriate party.
Note to you: If closing were a team sport, the agent would be the referee. He or she is not your BFF and not there to offer you legal or tax advice. The agent must remain completely neutral so that you, the seller and the lender (aka "the principals") are treated fairly.
Escrow services can be provided by title companies, escrow companies, attorneys, banks and lenders or brokers. Who chooses and pays? Ideally, the buyer and seller should agree upon an escrow agent; escrow fees can be paid by the buyer, the seller or split between the two.
Escrow States
In states like California, Nevada and Montana, the preferred method of closing is outlined above. No face-to-face meeting required.
In certain East Coast states like Connecticut, Delaware and Georgia, a real estate attorney rather than an escrow agent handles closing. And in states like Ohio, Indiana and Illinois, all parties (you, the seller, the real estate agents and maybe the lender) meet at a specified time (known as a "round table closing") to sign paperwork, pay fees and finalize the sale. Ask your lender or real estate agent for advice on how to prepare for the type of closing that's required in your state.
Cancellation of Escrow
Can you walk after a home is in escrow? Absolutely. Will you get your earnest money back? Maybe.
It all comes down to "contingencies," conditions written into the home purchase contract. (Basically, "I will buy this home if XYZ comes through or checks out.") Contingencies can include financing, home inspection, homeowners insurance and appraisal. During the contingency period, which begins as soon the seller accepts your offer, you need to run down and complete your list of contingencies. If you are okay with the results of the home inspection, appraisal, etc., then you request removal of contingencies in writing, and the sale moves forward. If the inspection uncovers a problem or the home appraises for an amount that's lower than the selling price and you can't get financing, you can back out of the purchase and get your earnest money back by submitting escrow cancellation instructions.
Escrow Account
Let's fast-forward to the moment when you become a homeowner. Escrow in this scenario refers to an account set up by your lender to pay your property tax bill and various insurance bills: homeowners insurance, mortgage insurance and flood insurance, if you have it. For condo owners, an escrow account can also be used to pay homeowners association fees. At closing, you may prepay a few months' worth of taxes and insurance into this account. After that, a portion of your mortgage payment is dropped into the account to cover expenses. As tax rates and insurance premiums fluctuate, so too does the amount dropped into this account. Your lender will do an annual review to assure that enough funds are being deposited to cover expenses. And if you happened to overpay, your lender will send you a refund.
An escrow account is required if you purchased a home with an FHA loan or put down less than 20 percent. If you do put down 20 percent or more, should you skip the escrow? It depends on your ability to budget. If you can save the money every month and keep it in an interest-bearing account, then you'll be coming out ahead. In fact, some people wouldn't do it any other way because they don't want to give up the interest. (In a handful of states, lenders are required to pay interest on the money they are holding for you.) The deciding factor: Make sure you'll be prepared when it comes time to make those big payments.