Why You Need Homeowners Insurance and How to Get It
A tree falling on your roof. A lightning bolt out of the sky. Fire, hail or theft. There are so many ways in which your property can be jacked up. The odds are against it. Nevertheless, the bank wants its investment protected. And you want to be protected, too.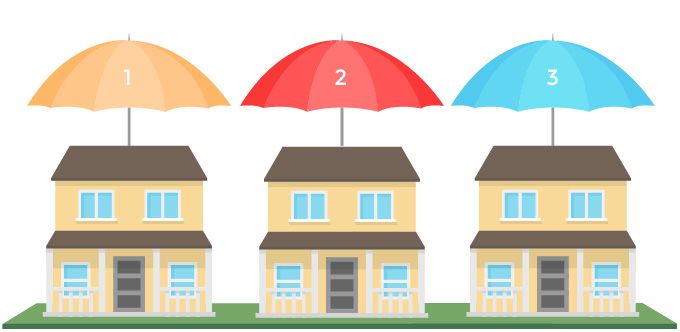 If you're buying a home with a loan, homeowners insurance is mandatory. You will need to pay a year's worth in advance and must bring proof of payment to your closing. After that, your insurance payments may be paid by the bank, with money that you put into your escrow account each month. If you do not have an escrow account with your lender, then you'll pay the premiums yourself when the insurance company bills you.
What's Covered — and What Isn't
Homeowners insurance pays for the structure of your home as well as its contents. You're also covered if others are injured while they are on your property. Your living expenses are covered if your home is trashed and you have to crash somewhere else.
But you're not protected against all potential damage. For example, floods and earthquakes are usually not covered. Often, neither is water damage from a sewer backing up in the basement. You may need to get a separate rider or policy to cover such hazards. Also, not all of your possessions are protected. Very expensive jewelry, family heirlooms or valuable art objects should be covered by a separate articles policy.
Comparison Shopping
It pays to shop around when you're buying home insurance. "Get three or four quotes," says Linda Rooney of Illinois-based RE/MAX in the Village. "You can definitely save money, but it's best to make sure you're getting replacement value, not original value." This means that — say you have to replace a couch after a tree falls in your living room — your insurance company will cover cost of replacement based on today's prices, not the original price. Pay attention to details like this when you're reviewing various offers.
Also know that level of claims service is not consistent across the board. "Bundling is my first piece of advice," says Illinois real estate attorney Joe Nery. "The rule of thumb seems to be, if you have auto insurance with a reputable company, look into bundling your homeowners insurance with your auto insurance. You're probably going to get a discounted rate."
Types of Coverage
(Note: Offerings will vary by company)
Guaranteed replacement coverage. Covers what it would cost to replace property. You can replace lost or damaged items based on today's prices, not original purchase price.
Market value coverage. If you are insured for a $200,000 home but there is $250,000 in damage, you only get $200,000.
Cash-value policy. If your home is destroyed, you throw in the towel and just ask for the cash and don't rebuild. You'll get replacement cost, minus depreciation.
Document Your Stuff
Finally, it's a good idea to do a photo sweep of your home to make records of your belongings — the things, the bling … that weird lamp from Grandma. That way, if you do have to make a claim, you have proof of ownership. (Not to be too depressing, but you could lose your photo files in the same disaster, so think about keeping a back-up in another location.)